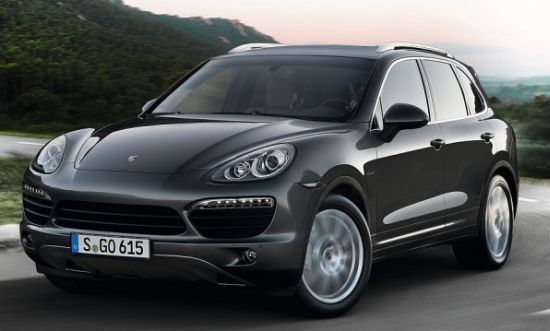 There had been rumors in the past that Porsche will soon announce a more powerful version of its V6 powered Porsche Cayenne Diesel SUV. However, Porsche has now confirmed the rumors and those of you who are waiting for a more powerful version of Cayenne has every reason to rejoice. Porsche's stand at 2012 Paris Motor Show will feature a new model with its most powerful diesel powerplant till date.
The refined version of Porsche Cayenne will have Audi sourced 4.2 liter V8 engine under its hood which is good enough for a moderate 382hp and 626 pound-feet of peak torque which is 142 hp and 220 pound-feet of torque more than the standard Cayenne with V6. As the engine is connected to 8-Speed Automatic, Porsche Cayenne SUV takes merely 5.7 seconds to sprint from a standstill to 60mph, with its top speed limited to 155mph.
Equally impressive, however, are the performance figures of diesel SUV as it gets 28miles on a single gallon of fuel on the European combined cycle. If this doesn't sound too impressive to you, the V8 engine in the Porsche Cayenne can toe well over 7,700 pounds and still can cover 745 miles on a single tank of fuel.
Other features that are prominent in the all wheel drive Porsche Cayenne include start stop technology that add more miles to its range, optional torque vectoring, upgraded brakes, new intakes at front. New Cayenne Diesel will hit the European dealerships in the first quarter of 2013 with a price tag of €77,684, approximately $100k. As the earlier model of Cayenne Diesel took years to reach US shores, Porsche fans in States might have to wait little too long to put their hands on one.
Via: Autoblog