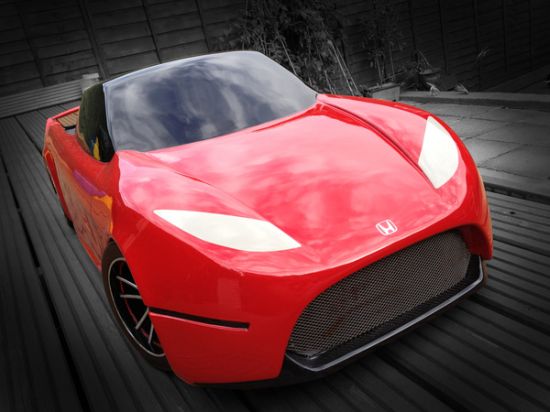 If you want a sports car that has a lot of luggage space and it could function like a truck to carry your bikes, surfboards and all, you are a nut. Because that's not a sports car meant to be. However, going contrary to the belief, UK designer, Daniel Pearson, who says he owns a sports car, is disappointed with it for the reasons mentioned above. Hence, he imagines Honda UTE concept wherein he combines the functions of a sports car and a utility vehicle.
By delineating Honda UTE concept, Daniel reaps the benefits of a sports car and makes it more practical (read truck for carrying loads of paraphernalia) for multiple user experiences in different situations. The UTE concept features fully usable tailgate for loading luggage, clip-on spoiler to give rear downforce when you want to enjoy the thrill of a sports car, large vent upfront for cooling, detachable spoiler and LED rear lights that are visible only when in use.
Honda UTE concept is imagined with 2.0 turbocharged VTEC engine coupled with electronic boost controller to provide three levels of power for different road conditions. Engine is capable of developing 300bhp of maximum power that propel the rear wheels of this beautiful UTE Concept.
The concept is good and the imagination impressive and I must say it's a new thing imagined altogether but for a wrong reason.