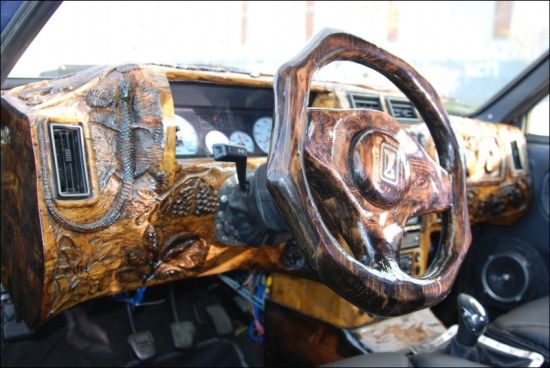 If modern car interiors with lots of gadgets like parking sensors, satellite navigation and iPod connectors with carbon fiber or leather trims isn't your thing and you prefer more for a cool factor, then these wooden interiors, by a Russian from St. Petersburg, is for you. The wooden trim not only makes car's interiors lively but also adds the oomph factor.
With this thing in mind, the Russian creator gives the interiors of his Lada 21099 a wooden finish that now looks more than impressive. With this innovation, you could use the dashboard of your car as a piece of furniture. Aptly named Lada 21099 woody, the real wood steering wheel with metal Lada logo embossed and dashboard having flowers, squirrel and an owl beautifully carved on the left corner makes it a real piece of art.
The wooden dashboard houses TV and radio on their respective places and the Pannelka heater control placed right under TV is made of metal but decorated with engraving. The Pannelka controls are connected with TV Radio and rearview camera enable you watch videos on the go. However, with the press of a button, TV screen will be connected to the rearview camera only. The work on the same started in 2007 and the creator used pocketknife for carving the piece of wood.