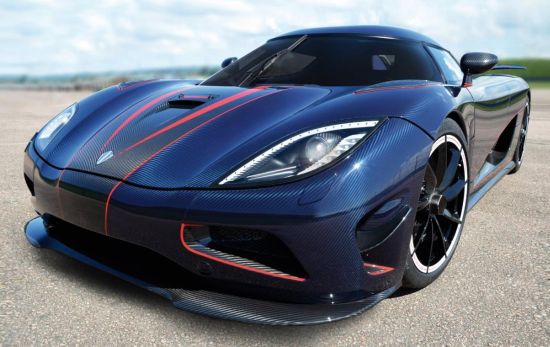 Built to the orders of a Chinese customer, Koenigsegg's factory dispatches a special custom-made version of Agera R to China. Christened as Koenigsegg Agera R BLT, the new beast flaunts beautiful blue tinted clear carbon body and red straps on the front along with many other features that make Agera R BLT considerably different from the Koenigsegg's regular Agera R.  The bespoke Koenigsegg Agera R presents the height of customization from Koenigseeg and this model is bound to impress any auto lover.
Not much of the details have been made available about this factory custom made Agara R, and we really don't have any idea if some changes have been made inside or in the engine compartment. However, those of you ignorant souls must know that Koenigsegg Agera R comes equipped with a 5.0-liter V8 twin-turbo engine that churns out a whopping 1140 hp and a peak torque of 1200 Nm. With this configuration, Agera R sprints from a standstill to 100km/h in just 2.9 seconds, with its top speed well over 390 km/h.
We guess Koenigsegg Agera R BLT will have the similar powertrain, but with special trims, it would surely cost more than 1.2m Euros that standard Agera R is tagged with.
Source: Koenigsegg