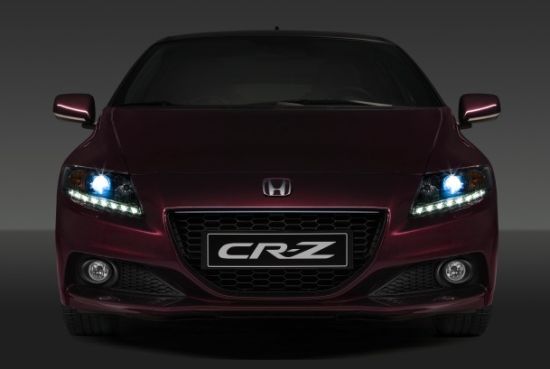 We have had the teaser of 2013 Honda CR-Z last week and now Honda makes first photo of the hybrid car public before its debut at fast approaching 2012 Paris Motor Show. The image shows some cosmetic changes, while Honda affirms that updated CR-Z will have some updates in the cabin too, apart from the power boost without compromising fuel economy or increasing the tailpipe emission.
2013 Honda CR-Z hybrid is to get power from 1.5-liter four-cylinder i-VTEC gasoline engine aligned with an electric motor – a combination also found in 2012 Honda CR-Z hybrid. The combination puts 122 hp of peak power. Engine is mated to a standard six-speed manual transmission that returns 31mpg/37mpg of (EPA verified) fuel economy in city and highway driving respectively, while emitting 117 g/km of CO2. The USP of 2013 Honda CR-Z hybrid is power bump that doesn't affect the fuel economy or increase the tailpipe emission either.
The image also gives us some insight how the facelifted Honda CR-Z hybrid would look like. From the image, one can see clearly that Honda has implied a strip of LED lighting under HID headlights, front grill now has honeycomb insert, new front fascia and horizontal upper slats from the 2012 CR-Z model won't find place anymore. Honda remained tightlipped about the details and they are expected to come with its debut on 27th September at Paris Motor Show. So, stay tuned, as we'll bring you the exclusive coverage of Paris Motor Show.
Source: Honda