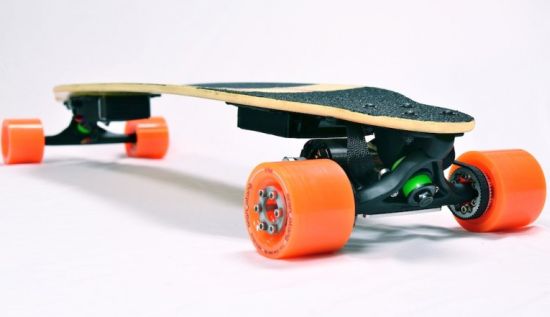 Skateboards have always offered thrilling rides down the streets. However, they are always alleged to lack the momentum on ascending tracks. But not anymore! Boosted Boards comes for the rescue with a motorized skateboard to do more, go farther and faster everytime you hit the street.  
The new line of skateboard is powered by dual brushless electric motors assisted by lithium batteries that  juice up your ride to touch 20 mph speed and lets you ride uphill up to 15% grade. Skateboard takes you up to 6 miles on a single charge. Motorized Boosted Boards is controlled with a handheld controller that lets you set the speed, apply the regenerative breaks whenever necessary and check the battery status.
Even if the battery pack runs out of juice, you can ride it like a normal skateboard and it comes complete with components like a Bear Grizzly 852s, Loaded Vanguard, Otang 80A In Heats, and Jehu bearings. Weighing merely 12 pounds in total, the electric skateboard not only gives you perfect ride but also add to style quotient.
Via: Kickstarter