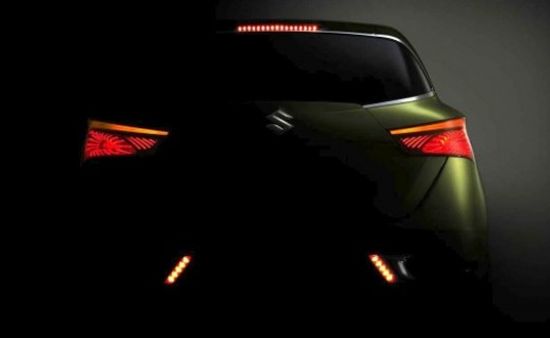 As the Paris Motor Show is inching closer, big upheavals in the auto world have already started taking place. The newest among the scores of vehicles revealed or teased ahead of their coveted debut at the Paris Motor Show is Suzuki S-Cross Concept. In an attempt to keep the suspense going on, Suzuki has teased the S-Cross Concept yet again, sans any technical details whatsoever.
The second shadowy image gives us little idea how the rear of Suzuki S-Cross Concept would look like. Showcasing what Suzuki calls as an all new 'Emotion x Quality x Aerodynamics' design theme for the brand, S-Cross Concept car to herald a C-Segment crossover model or rather, we guess, is a preview of next gen SX4 Crossover in the making.
In the first teaser image last month, Suzuki showed us the front end, new headlight design, LED daytime running light strip and some part of the grill. However, Suzuki remains tightlipped for providing any details for its powertrain, performance or price and enthusiasts have to wait until it bows on September 27, 2012 at Paris Motor Show. So, Keep your fingers crossed and continue reading autochunk as we'll keep you updated on the whole drama.
Via: Caradvice