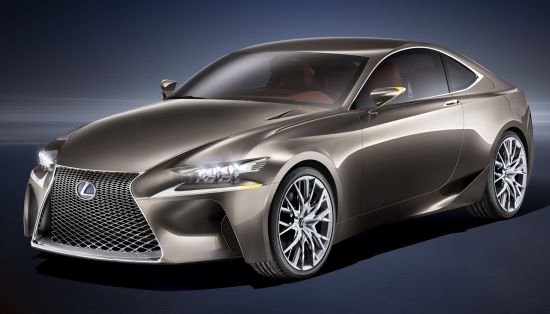 Lexus just put the wraps off to its LF-CC Hybrid Coupe Concept that features automaker's next generation hybrid powertrain. To be unveiled at 2012 Paris Motor Show, the LF-CC Hybrid Coupe concept borrows some design cues from LF-LC Hybrid Sports Coupe Concept, reveled at Detroit Motor Show in January this year.
At not only the design front, but technology wise too LF-CC Hybrid has close similarities with LF-LC Hybrid Sports Coupe Concept. It is to feature a full hybrid powertrain that consists of a direct injection 2.5-liter, 4-cylinder petrol engine aligned with a compact water-cooled electric motor. The powertrain is to be incorporated in the Lexus model range anytime soon. Engine is placed at the front but powers the rear-wheels of this mid size coupe, which is more compact than LF-LC Hybrid. The setup is to produce, as per the press release, more than 2HP for every gram of CO2. This means, the power output in Lexus LF-CC Hybrid coupe will be well over 200hp. Apart from this, the concept features the same L-finesse design language that makes LF-CC Hybrid and LF-LC hybrid twin sisters.
On the outer surface, Lexus' L-finesse design language has been chiseled for better and that is prominent through boldest signature Lexus spindle grille till date, supported by functional air intakes and three LED-projector design for headlamps as well as taillamps. The LF-CC Hybrid also has Daytime Running Lights that are included at the surface above the upper bumper. In order to ensure better grip on road by increasing the down force over the driven wheels, a fin that joins the falling roofline, regulates the airflow from beneath the sides and it goes up to the rear wheel arches.
Inside, Lexus continues with Human Machine Interface (HMI) design philosophy and LF-CC has its dashboard split into two different parts to house a multi display screen in the upper part, whereas the lower part incorporates shift leaver and a touch tracer display.
Source: Lexus