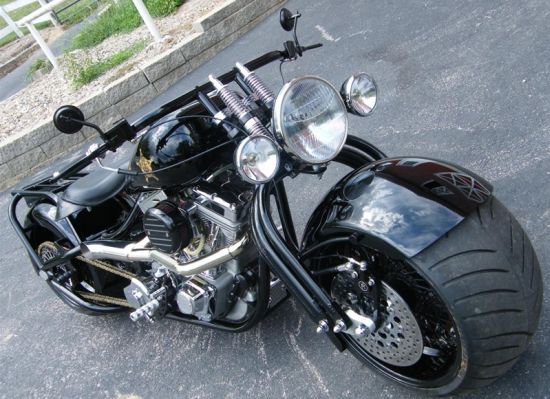 This is the extreme of custom bike building. If you doubt my words, just check out the images and you will rhyme with me. Coming out from the house of US based Rods & Rides, the beast and king of custom motorbikes couldn't be built on any other platform than on a Harley-Davidson that has served for many such beastly creations in the past.
The bike has been aptly named the Fat Pig and it is the only bike in the world with 330mm front tire. In the rear too, however, the Fat Pig has the same tire. And in order to scream on the road for that much deserved attention, Rods & Rides fitted it with specially prepared 131ci El Bruto engine that develops a whopping 165hp to power the rear wheel of the monster motorbike.
Forming the coherent whole of this real beast are ultra wide Springer forks, 80-spoke Tripple Black wheels, carbon fiber front fender and its badges are painted in 22k gold. The beast comes with an asking price of 33,000 dollars, which doesn't sound too much to any bike buff with deep pockets. This bike is to get the owner those sinister stares for sure.
Via: Bikerscafeblog