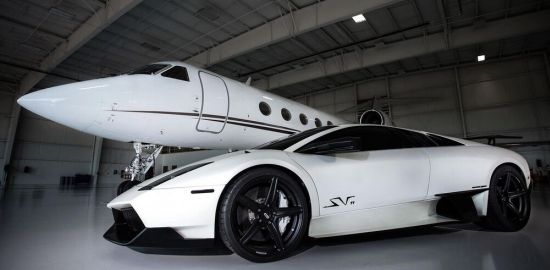 As if Bugatti Veyron or SSC Ultimate Aero weren't enough, now the world needs another monster out of an Italian bull. Nevertheless, for those diehard Lambo fans who think Murcielago is too common and doesn't cater well to your ever rising hunger to command more ponies, Covert Tuning Dynamics may give excess of it for your desire to surfeit and so die. Finally!
After four years of research and development and a team putting in 3000 hours of vigorous effort in its making, the details of David Wiggins' conversion on Lamborghini LP670-4 SV finally appears and are more than impressive. Christened as Murcielago LP2000-2 SV TT or 'The Stig' in short, the car was unveiled at the Pittsburgh Cars and Coffee Hanger Party. The conversion isn't just about going from all wheel drive to rear wheel drive but it now churns out a whopping 2000hp, means power of a Bugatti Veyron in each wheel.
Apart from boosting the power more than three times, Murcielago LP2000-2 SV Twin Turbo has custom ADV.1 wheels and its weight has been reduced by 550lbs through a weight saving program. Additionally, a new 12-inch exhaust system, five-inch cold air intakes, custom Garrett GTX-4294 twin turbochargers and everything under the hood is custom built.
Furthermore, six-point roll cage, a sleeved cylinders, a strut brace, intercooler, some NASA heat shielding, a custom battery and custom sound system are among the other major details. Whereas the exterior is finished in matt finish and complete with carbon fuel door and matt carbon side mirror.
Via: Gtspirit