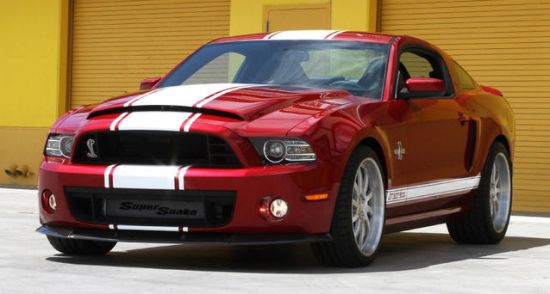 If you are one of the power mongers who crave to command more ponies everytime you sit behind the wheel, then Shelby offers you a more potent option in tweaked GT500 Super Snake. Aimed for 2013, the GT500 Super Snake to come with hoard of styling features, color options and, of course, performance boost for the more thrilling drive down the lane but with lower base price.
2013 Shelby GT500 Super Snake will be a limited run of 500 cars and will be open to choose from any color in regular models and option for a convertible or hardtop. The most powerful base model developed in collaboration with Ford and other partner has a peak output of 662hp and 631 pound-feet of torque and comes with considerably cheaper price in comparison to its predecessors. However, by checking a few boxes off in the series, power-loving people can get a more powerful street legal petrol version with 850hp.
Other prominent features that complete the package include upgraded suspension, Shelby performance cooling package, Borla sourced exhaust system, 20" alloy wheels and six piston front and four piston rear wildwood caliper brakes. For those of you who are willing to take home 662hp version have to shell out $28,995 and those who crave for 850hp version have to spend $39,995, before you add more options. This edition, we hope, will get many takers, as it's the last GT500 series that late Carroll Shelby designed.
Via: Mustangsdaily