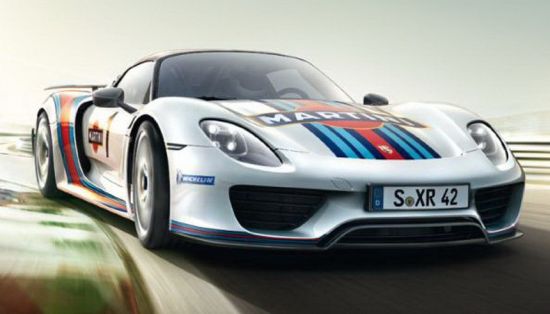 Almost everything is known about Porsche 918 Spyder's power figures and performance credentials since most of its details are public after it was revealed at 2010 Geneva Motor Show. However, fresh images from Porsche's brochure appear on the web and give the possible customers an idea what they should look forward to when the model hits the showrooms in late 2013.
We all know that Porsche 918 Spyder to come with an advanced plug-in hybrid powertrain that include a 4.6-liter V-8 engine capable of developing 580hp and a seven speed dual clutch transmission connected to two electric motors. Electric motors add additional 215 ponies to 580hp of V8 engine, thus taking the power tally to a whopping 795hp. The maximum combined torque output in this setup will be 626 pound-feet. Additionally, Porsche 918 Spyder will be able to run on electric only, gas only or hybrid modes and gets from zero to 60mph run in less than 3 seconds, with its top speed at 202mph. Electric motors that are assisted by 6.8 kWh lithium-ion battery pack enables it to cover 25 miles on electricity alone with its fuel economy at 78.4 mpg (US) and CO2 emission at 70 g/km.
Though Porsche has already put the price tag on 918 Spyder and the cost for the model starts from $845,000 in US and €645,000 in Europe, excluding VAT and local taxis. However, the brochure spice up the things a bit as it states that those who want to go for pricier paint have to shell out a cool $65,000 to give their beast a Liquid Metal Grey or Liquid Metal Blue finish. For those who don't prefer it can choose between ten colors in addition to Martini Racing or Salzburg Racing Design films. The brochure also shows that the hybrid 918 Spyder will also be made available with clear coat carbon fiber targa roof panel.
Apart from this, those of you who are more interested in racing your car hard than enjoying the amenities can get the air conditioning, audio system, armrest and door storage removed through a package that will cut down 34 kg from your car. The hybrid spyder will have a lift system that will raise the front up to 30mm when driving on rough roads, interior flaunt several LED panels; huge central column has aluminum trim together with modern control panel and 20" wheels at front and 21" wheels at rear end are among the major features. The production of the car is to start in September 2013 and deliveries are expected to begin by the end of the same year.