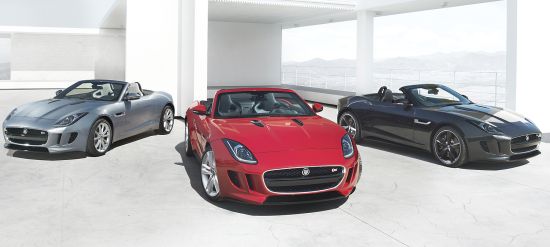 Following a teaser image on the America website, Jaguar reveals the long awaited successor of legendary E-type and most highly anticipated car of Paris Motor Show, the new F-type. The official image of three F-type models in flesh show the range of colors, wheel options and first clean look at the new compact British sports car. Based on C-X16 concept, revealed at 2011 Frankfurt Motor Show, F-Type is built on lightweight aluminum chassis and will take on Porsche 911.
Its engine lineup will include a supercharged 3.0-liter V6 and an upgraded supercharged 5.0-litre V8. Wherein, the former will put up either 335hp or 374hp while the power output of latter isn't known as yet. All the engines will be mated to eight-speed automatic gearbox that conduits the power to the rear wheels of this compact two-seater convertible.
The styling features include 'S' badge on the grille which is the indication that it'll be the range topper, a modern four-cornered grill replaces the traditional oval one and supported by two grills at each side, the splinter with gloss black finish, bonnet in clamshell design, vertical headlights with exquisite LED strip and sloping tail identical to E-type.
Size and price wise, F-type will be placed between Porsche's Boxster and 911 and will be launched in convertible version first in spring of 2013 and coupe version will follow in summer 2014. There is no word on price from Jaguar as of now, but a starting price of £55,000 was earlier debated. So, expect anything in excess of it.