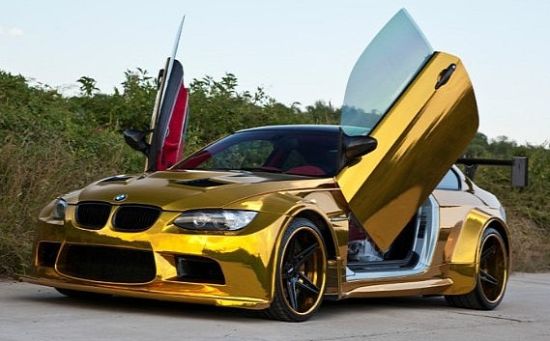 Chinese have really made it big by putting forth some of the most amazing replica cars in the recent past. Toyota MR2 based Lamborghini Murcielago LP64 replica and Mitsubishi Eclipse as Reventon replica and many other made uproar in the automobile world. The thing is even more laudable as China doesn't have great car culture. However, the perception is changing gradually and that's because of increasing Chinese love for foreign iron beauties.
What really strengthens the belief more are the projects like this BMW M3. The things might not have turned too good to be pleasing but that surely doesn't eclipse the creation as a whole. The project here in question gives an entirely new appearance to the already fierce BMW M3 with widebody kit that includes hauge rear spoiler, Lamborghini styled doors, carbon fiber roof and above all, gold vinyl wrap supported by black rims and gold lip, making it really stand out on the road.
Inside, the beast gets pink and black suede and some carbon fiber trim pieces to give it a new look altogether. Not only is the exterior looks but there are some upgrades under the hood too. This BMW M3 wrapped in gold vinyl now has upgraded Brembo braking system to bring it to a halt. It now boasts 500 ponies under the hood with its speed, as the owner claims, at 325km/h.
Via: Autoevolution