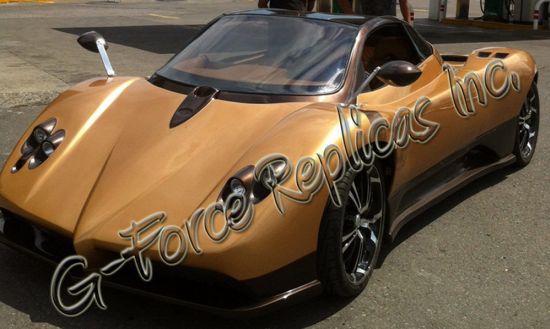 When you think of those sleek and most powerful iron beauties on wheels, one brand name that instantly comes to your mind is Pagani. The Italian sports car maker builds one of the most beautiful and ferocious sports cars in the world but for most of its fans owning one remains a dream because of the massive price tag it carries.
If you love Pagani, and would prefer to park even its clone in your garage, here is the best deal for you. A custom builder has put up Pagani Zonda clone on eBay for auction. The replica Pagani is based on the Porsche chassis but is powered by, like original car, a Mercedes sourced V12 engine rated at 500hp. Engine is aligned with Porsche's Six-speed manual transmission that conduit power to the rear wheels of the supercar. However, automatic transmission is also available without any extra cost.
Some other elements borrowed from Porsche include four-wheel ABS braking system with electronic brake force distribution, Fading Brake Support and independent suspension. To bring this beautiful clone to a halt, there is four-wheel front ventilated/rear solid disc brake setup and it rolls over wheels and tires that match the original Zonda.
The replica Pagani comes complete with air conditioning, power windows and locks, Bose stereo system and air bags. If you loved the details and want to go for it, the asking price of the car is set at US $130,000, which is too less than the US$500,000 price of original Pagani Zonda S.