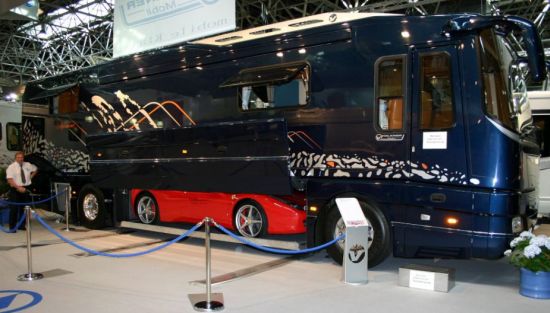 There are scores of caravans and motor homes for those who love to step out on excursions every now and then. But, there isn't a better way to do it with utmost luxury and all the amenities that you might have missed on the go so far. However, the only prerequisite to enjoy the whole package is you must have a stack of cash around and that's only catching dust.
The one pictured above is to offer you all, that too with the best of luxury available. This ultra luxurious bus from Volkner Mobil Performance is the world's ultimate camper van that comes with a car garage in the middle of the wheelbase to house your Lamborghini or Ferrari. The panel on the side opens with the touch of a button and cargo space drops to the ground to upload the car easily.
The bus is built to the order and customers can choose from various options like high quality leather seats to real wood finish for units and stone tiles for your kitchen and bathroom. Apart from this, what makes the bus an ultimate touring machine is a large fridge-freezer, microwave, dishwasher, a windscreen TV that hides into the cabinet and Bose-Dolby home entertainment system.
You can clean up in the spacious bathroom and 800-litre freshwater tank stores water for the kitchen and bathing. There is also a capacity to store 900-liter water that includes tanks for 600-litre of wastewater and 300 liters of black water. It takes around 12 months to custom built this 40ft long bus that costs a hefty £1.2million. However, if that sounds too much, you can go for a cheaper version as Volkner Mobile buses starts from £750,000 and cost for a fully loaded version goes to £1.2 million.
Via: Thesun / Volkner-mobil