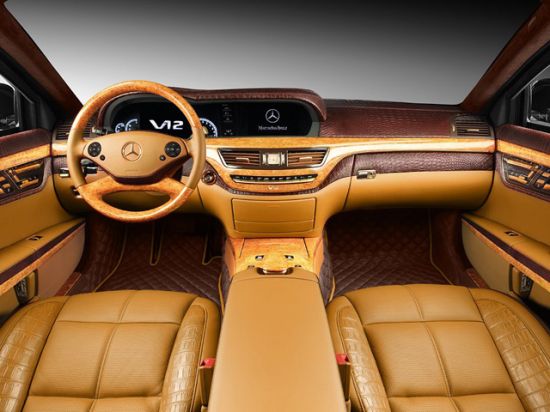 They say, what has been done can be done better. That means there always remains a scope for improvement in anything manmade. Same thing is implied to impeccable cars from brands like Bentley, Bugatti or for that matter, even Mercedes. Working on the same lines, TopCar customizes heavily armored Mercedes-Benz S600 Guard interior to unparallel comforts together with protection from bulletproof glass.
TopCar adds more lavishness to already comfortable Mercedes-Benz S600 Guard interior. The package decorates the interior with crocodile and diamond-quilted Nappa leather for seats, doors, dash, floor and the luggage compartment with brown, yellow and orange hues. There is Alcantara rooliner as well as Karelian birch wood finish. Taking opulence to a new high is gold plated accents that are on almost everything ranging from door handles to command controller.
There are no pricing details for how much this ultra rare packaging cost, but be sure that it's to ask you millions of dollars.
Via: Worldcarfans