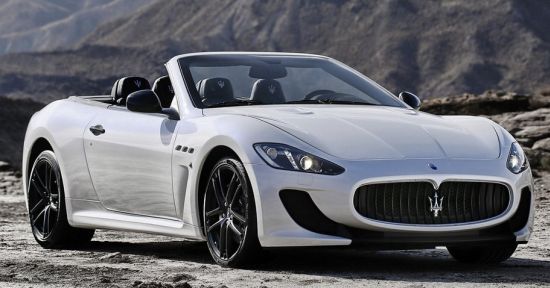 It's just a couple days for the coveted 2012 Paris Motor Show to begin, however, Meserati has put the wraps off to Maserati GranCabrio MC Stradale. It is the seventh edition of Granturismo lineup and is based on the range topping Granturismo MC Stradale coupé. GranCabrio MC Stradale comes equipped with 4.7-liter V8 engine rated at 454bhp and 384lb ft of peak torque. Engine is connected with six-speed ZF automatic gearbox and is a four-seater car in comparison to two-seater Stradale.
The Maserati GranCabrio MC aesthetics differ considerably from the regular Grancabrio and the latest edition now flaunts large rear boot-lid spoiler – available in body paint or in carbonfiber finish – to make it more stable at high speeds. Apart from this, there are newly designed front as well as rear bumper, hood air vents, deep rear diffuser, boot lid spoiler, taillights and it runs on new alloy wheels.
GranCabrio MC Stradale is expected to come with many customization packages when it will hit the UK showrooms in early 2013. No interior or pricing details are made available as of now but you can expect anything in excess of Grancabrio Sport's £103,875 price tag.
Via: Rushlane