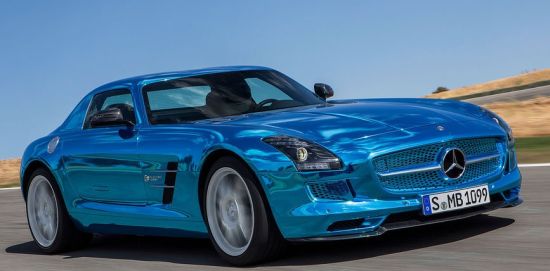 Mercedes-Benz's SLS AMG Gullwing supercar is a gas-guzzler but now it is to come in a new avatar. Well, yes it goes green with zero tailpipe emission. The German automaker is to unveil Mercedes-Benz's SLS AMG EV at the 2012 Paris Motor Show. If you are thinking that it will be less powerful than the V8 powered SLS AMG, you are wrong. Instead, it has now more power than what naturally aspirated 6.3-liter V8 engine (used to produce, but fractionally slower than its gasoline-powered counterpart.
Mercedes SLS AMG Electric Drive gets power from four electric motors each propelling a wheel that collectively put 740hp and a staggering 1000Nm of peak torque to make it not only the all wheel drive car but also the most powerful AMG car ever produced. Four electric motors get vital juice from the 60kWh lithium-ion battery pack that result in instant power and torque to make the electric beast jump from zero to 100km/h in just 3.9 seconds, with its top speed electronically controlled at 250km/h.
Lithium-ion battery pack takes 3 hours to recharge using fast charge system and around 20 hours to recharge from a standard household point. The deliveries of the limited edition Mercedes SLS AMG Electric Drive is to start July, 2013 with a massive price tag of €416,500 (Germany) which is more than twice (€204,680) the price tag of petrol powered SLS AMG GT.
Via: Caradvice