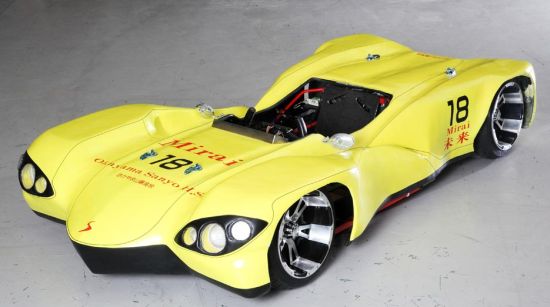 The Guinness World Records Book 2013 has a new entry for the lowest roadworthy car. Christened as Mirai, which in Japanese means future, is created by a team of students and teachers from the Automobile Engineering Course of Okayama Sanyo High School in Asakuchi, Japan on 15 November 2010. It's name, 'Future' isn't without a very good reason since the lowest roadworthy car is propelled by electric motors that get power from six main batteries.
Measuring merely 45.2cm high above the ground, Mirai is a blend of parts borrowed from car and motorbikes while the students build many of its parts on their own. Like its motors and controlling units are borrowed from 'Q-Car' which is produced by CQ motors in Japan, switching console is from a motorbike while the steel chassis, main body, steering system, LED lights, seats, suspension and many other parts were built by the team of students.
Just to recapitulate, the record for the lowest roadworthy car was previously held by British motor fanatic and garage owner Andy Saunders, 43, who built a 21 inches high car from a rusty 1989 Fiat 126, dubbed the Flat Out in just three days.
Via: Guinnessworldrecords