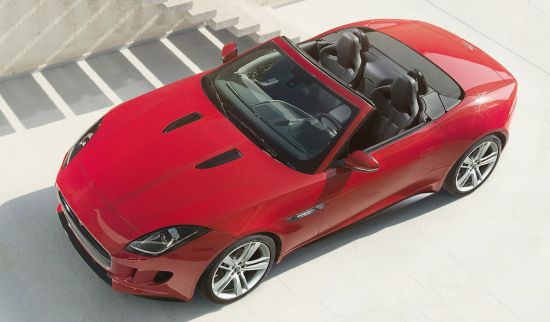 Just a couple of days back, Jaguar revealed official image of F-type, the successor of E-Type, hours after a teaser image of the same published on an America website.  Now, Jaguar has revealed the images and full details of F-Type on the eve of its debut at the coveted 2012 Paris Motor Show. Jaguar F-Type is to reach UK markets in a convertible avatar by May next year, followed by a coupe version after 18 months or so.
Jaguar F-Type will be made available in three engine options, as reported earlier, and it will have a front engine, rear wheel drive layout. The engine options include two 3.0-liter V6s and a 5.0-litre V8. Wherein the entry level V6 will develop 335bhp to get a sprint from 0-62mph in 5.3 seconds, with its top speed at 161mph. Jaguar claims 209g/km of CO2 emission in this version. The second version of V6 is to churn out 375hp and is considerably faster than the entry level V6. It gets from zero to 62mph in 4.9 seconds, has a top speed of 171mph and its CO2 emission is rated at 213g/km. The most powerful S version to have a 5.0-liter V8 generating 488hp and 461lb ft of peak torque to get from a standstill to 62mph in just 4.5 seconds, en route to a top speed of 186mph.
Measuring 4470mm in length, Jaguar places F-Type between Porsche Boxster and 911 size wise to claim what British brand believes is a new niche in the two-seat sports car segment. Design wise, E-Type uses the C-X16 concept platform without any changes whatsoever to feature sloping tail, clamshell bonnet and taillight design, for instance, as such. But that doesn't stop it to appear as a different Jaguar altogether and the uniqueness can be witnessed in the form of a sports car without oval front grille that ends up with a four cornered front end – something which was first viewed in C-X75 and C-X16 concepts.
Also, there are vertical headlights matching the shape of the car with exquisite LED strip and sloping tail identical to E-type and the LED lights at rear wrap around the wings. A diffuser has exhaust pipes integrated into it and a hidden spoiler that comes out only when car goes beyond 60mph speed and hides when speed is less than 40mph. Jaguar name appears on bootlid and badge. Built on all aluminum monocoque structure and body similar to expensive XK, the F-type has a curb weight of 1597kg in its lightest form.
Featuring a simple interior with all switches and buttons as new technology and all the major controls are within the easy reach of the driver. The roof of Jaguar E-type can be raised and retracted in 12 seconds at the speed up to 30mph. The price for entry level Jaguar F-type starts from £58,500 and will go up to £79,950 for the V8 variant.
Via: Autocar