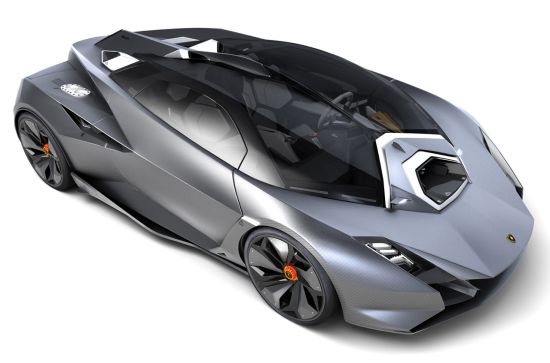 Giving shape to a Lamborghini concept, which is not only different from the current models but is worth the brand name is really a herculean task. But that surely doesn't stop designers across the world to come up with their interpretations for the Italian automaker and they aren't always different or rather say impressive but the one pictured above is. One of such designers is Ondrej Jirec who is a final year Transport Design student at the Art Center College of Design in Pasadena, California. Ondrej Jirec names his concept as Lamborghini Perdigón and it's impressive, I must say.
Apart from following the Lamborghini tradition to name its cars after Italian fighting bulls, Lamborghini Perdigón concept is a hyper car inspired from Lamborghini Reventon and takes the stealth jet inspired design language to next level. Other than the sharp angles and polygonal surfaces that'll make you think of F117 Nighthawk and F22 Raptor, Lamborghini Perdigón concept features distinctive design elements like large intake placed under windscreen and a fan like design inside that not only makes it appear like a jet engine but also adds more to the killer look of the vehicle.
Inside, luminous interior that jell with its aggressive exteriors, high tech steering wheel that houses many command buttons as well as digital display that shows the gear selection, high center console to conduit air from the front air intakes to centrally mounted engine and accommodating i-Drive inspired control knobs as well as glass canopy completes the package.
Designed to give a stiff competition to the likes of Bugatti Veyron, Perdigón concept might not see the light of the day ever. But it's imagination worth commercialization and would have surely been a great addition to the Lamborghini lineup.
Via: Diseno-art