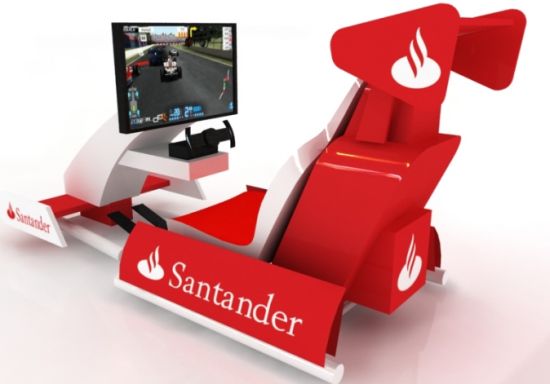 There are innumerable people in the world who have aspirations to race in F1 but a few really make it to the track. However, those who can't ever enter the racetracks can enjoy the thrill of racing through simulators that put them in the real track like situations with controls, steering wheel and huge screen that makes them feel the gush of blood in their body.
Presenting here is a simulator concept from Argentinean designer Joaquin Guerrero. The project was created for the Santander Rio Bank in Argentina that is one of the sponsors of the F1. The project was created with an idea to provide employees an opportunity to play with Sony Play Station 3 in F1 simulator. The simulator is added with 32" LCD TV screen and has PS3 Wheel and pedal commands to offer the bank employees with huge view, good resolution, great sounds and the PS3 to feel the adrenal gushing ride.
Thanks for the information, Joaquin Guerrero!