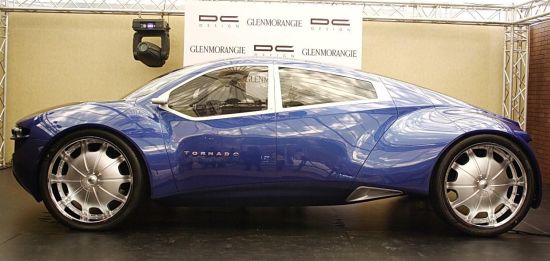 It's not that we hear or read about some awesome car concepts from India too often. However, when we do, it's often from DC Design. After presenting India's first supercar in Avanti, now DC Design comes up with another amazing concept wherein it combines the supercar performance and style with SUV's off-roading capabilities.
Christened as Tornado, the concept is based on the Imperator Concept presented at Delhi Auto Expo back in 2010. The Tornado is a 2+2-seater car with healthy ground clearance. Tornado concept gets power from an Audi sourced 6-liter V12 powerplant that develops at least 25% extra power and torque than what is available in standard (500PS, and 1000Nm in some Audi vehicles) configuration. Engine is aligned with sequential shift gearbox that transfers power to all the wheels.
The cardinal feature of the concept is its massive ground clearance, courtesy to 325/25/28 tires. Some of the other features of the concept include four individual seats in the cabin with adjustable cushions, floating dashboard and controls are easily manageable to suit the left hand drive markets. This is not all but the Tornado concept also features drive by wire, brake by wire, steer by wire, HUD and rear view camera as well as iDCdrive' system that allows occupants play with the gizmos of the car.
Via: Indianautosblog