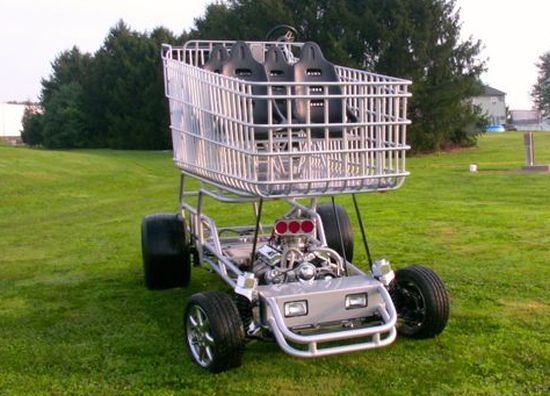 Certain things aren't required at all, but that doesn't stop the crazy heads to pursue something that others haven't even thought of. Similar is the case with shopping cart pictured above. Well, it's not an ordinary shopping cart you often use in any grocery store, but a big one as big as it measures over 12 feet in length and 9 feet in height.
If this doesn't sound too impressive, you might surely be surprised to know that Shopper Chopper uses 350 CID small block Chevy engine, which is capable of producing 290hp. Engine is aligned with a GM TH350 3-speed transmission and also features Dodge 12-bolt rear axle.
What seems to be the fastest shopping cart till date glows with an array of 500 LED lights that give it an impression of a Christmas tree at night. Made originally to represent Musser's Market in a Quarryville, Pa. parade, this V8 powered shopping cart took the present form after two years of adding and improving some details here and some there.
Capable of seating six people at a time, the Shopper Chopper is rented out for parades, special events, for fundraiser campaigns or for that matter, even for corporate events anywhere across the continental U.S. However, it's nothing more than a crazy invention of a crazy mind that makes an ordinary shopping cart roar with V8 power.
Via: Jalopnik / Shopperchopper