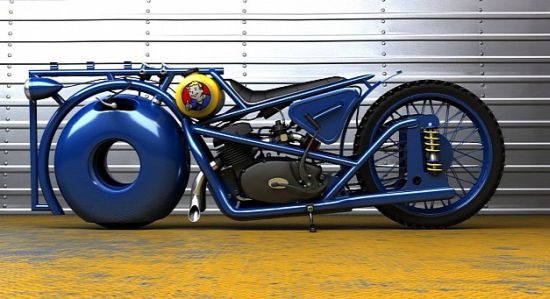 Well, the custom built bikes are real craze out there. However, there are some creations imagined so well that you just can't help but appreciate them. This IZH Fallout Concept Bike is one of them. Just check out the image gallery at the end to see the bike from all side. The brainchild of Mikhail Smolyanov, the IZH Fallout Concept Bike is a real eye candy for the Fallout fans.
The radical concept bike blends many traits from different walks of life. Powering the chubby yet beautiful IZH Fallout Bike is an old IZH engine which goes well with the design exercise. Enhancing the overall looks of the concept bike is hubless front wheel that brings classy feel to the bike, Holy Grail of bikes would be a better explanation.
Blending modern steampunk aspirations with rat design, that spice up things more, and some details that make it not only different from the other concepts but also simply unfeasible, in case some crazy soul try to convert it into a real bike. However, the design is really marks imaginative genius of Mikhail Smolyanov and is just more than spectacular.
Via: Autoevolution