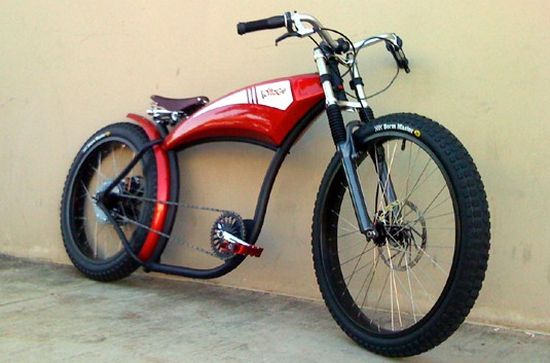 With the increasing worries on environment pollution and depleting sources of fossil fuels, electric bikes come as a handy solution. However, they were always alleged for lacking the style quotient for the geeks with eco friendly souls but still younger at their heart. This concern, I hope, is to end forever as Voltage Cycles presents a beautifully crafted cycle on low-slung frame with a range of power assisted peddlers.
Not only beautiful but electric cycle also offers power and performance by simply combining form with the function. The custom bike with retro looks gets power from 600 watt brushless geared motor located at the rear. Electric motor gets vital juice from 50 volt, 10Ah lithium battery pack that takes the bike up to a speed of 20 miles per hour.
The battery pack can survive up to 1500 cycles and propels the cycle over 34 miles on a single charge but we guess that isn't without some effort from the rider. Nevertheless, battery takes 2-3 hours to charge and costs less than a nickel.
Via: Autoblog / Voltagecycles