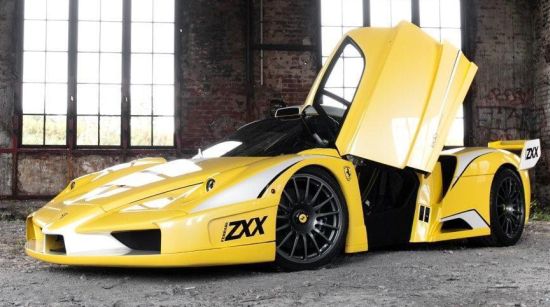 You might surely be remembering Zahir Rana's Ferrari Enzo FXX crash that landed it in the saltwater lake last year. Such an incident for a supercar of this stature would mean the end of drives and to the junk yard straightway. However, this isn't what Rana would let happen with his prized possession. As a result, Rana sent the car to Edo competition to have it restored to former glory.
After over a year's of herculean effort to rebuild the supercar, the final results are revealed and they are more than impressive. The car is now named as Ferrari Enzo ZXX. Though the press release is still awaited, but the resurrected Ferrari Enzo is to get, as per the previous information available, 6.3-liter V12 engine tuned to add 110 more ponies, thus taking the power tally all the way to 950hp. Also, it's sure to go well beyond Edo's Enzo XX Evolution performance figures that were at 3.2 seconds for 0-100km/h and a top speed of over 390 km/h.
Apart from the new life, Ferrari Enzo FXX also gets too many updates in the bodywork that include a revised nose, side air vents, LED lights at front and rear, FXX-styled rear spoiler, new rear skirts, new exhaust system and a new bespoke interior. Well, these updates are really enticing, keep your fingers crossed and we will keep you updated on the same.
Via: Gtspirit