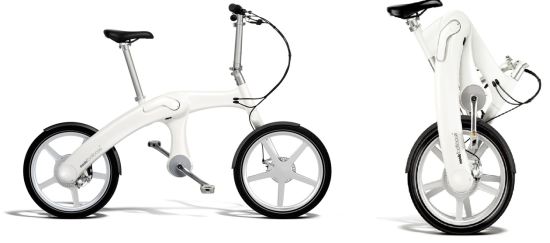 In a time when the number of vehicles is increasing on the road resulting in congestion and increase in emission rate, folding electric bikes come as a handy solution. Out of the many available in the market, the one pictured above is a special one for the reasons being many. Well yes, it's world's first chainless folding electric bike which is not only lightweight but is eco friendly.
The bike comes from Mando Corp, Korea, and is developed in collaboration with British designer Mark Sanders, Han Goes who is a Dutch e-bike expert and Meister Inc. The bike is dubbed as Mando Footloose. The bike harvests pedal power to generate electricity through the built-in alternator. The energy is stored in the lithium-ion battery that propels the Mando Footloose cycle up to 30km on its own or the rider can pedal for more.
The bike also features the Electric Control Unit (ECU) that monitors the terrain through sensors and automatically adjusts the gears with automatic gear changer – be the bike is in electric mode or the rider is peddling. On the other, handle bar mounted Human Machine Interface (HMI) enables the biker to monitor the distance, speed and electric power level.
Mando Footloose chainless electric bike weighs merely 21kg and can be folded up for easy portability or easy parking.  There is no price or availability mentioned on the source site about Mando Footloose but expect it to come sometimes in next year.
Via: Ecochunk / Mandofootloose