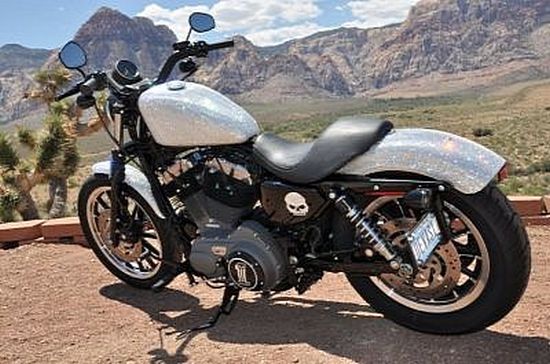 I don't know what is it with the healthy people across the globe that we see gold plated cars or other blinged wheels every now and then. Well, I consider it nothing more than a pompous parade of insane wealth that otherwise could be used for scores of meaningful purposes. Nevertheless, the show off won't end and so will the desire of belligerent asses that scream ever more for that cheap attention on the road.
Well, here is just another addition to the long list of blinged wheels and this time it's a Harley-Davidson Sportster. The monstrosity on two wheels gets blinged wings with its almost every part from fender to fuel tank to front; even the gear shift lever and the spokes of the cast rims get a fair number of jewels. The most amazing part encrusted with Swarovski stone is the rear fender and a jewel skull.
The bike is the courtesy of customization workshop and Swarovski crystal retailer Devas Bling who went on to add thousands of crystals to make this Harley-Davidson Sportster sparkle. We don't know who this dazzling motorbike belongs to but we assume that he/she might surely be a bike nerd with deep pockets.
Though the bling thing is exaggerated by adding Swarovski crystals on spokes and gear shift knob but the overall looks aren't that bad either. The customization surely makes the king of roads on two wheels a piece of art. However, you need to be extra cautious when you ride it as stealing such a prized possession isn't all that unlikely.