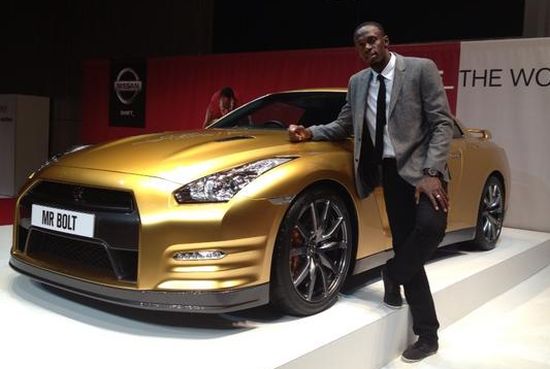 It was back in June we heard about a partnership between Nissan and the fastest man on earth, Usain Bold. The partnership started when Bolt became the part of 'What If' global campaign of Japanese automaker and now the relationship has grown further as the world's fastest man now holds the title of 'Director of Excitement' for Nissan as well as a brand ambassador for the GT-R. Bolt is passionate about fast cars and owns a Nissan GT-R since 2009.
The car in question here is one-off-a-kind, gold plated Nissan GT-R which is developed specially to pay tribute to Usain Bolt's achievements and contribution in sports. With bespoke gold trims inside and gold plated exterior, the said Nissan GT-R was used to pick up Usain Bolt from the airport during his recent visit and the car was later presented to him. However, Bolt announced that he will be auctioning it on eBay and all the proceedings will be going to the Usain Bolt Foundation that help create and assist with educational and cultural opportunities in Jamaica.
Apart from this, Bolt will work with Nissan specialists and will play a major role in developing a special edition Nissan GT-R, but no details of the car are available as of now. What we know is Bolt visited Nissan's headquarters in Yokohama and test drove many GT-Rs for the purpose and his reaction time, acceleration and handling capabilities were recorded to develop a special Nissan GT-R model for better racing and driving experience.
Just recapitulating for the new readers, 2013 Nissan GT-R comes equipped with 3.8-liter twin-turbo V6 engine that churns out a massive 545hp and a peak torque of 627 Nm. It gets from 0-100km/h in less than three seconds, with its top speed at 315 km/h.
However, Usain Bolt's special Nissan GT-R sports with gold paint and real gold trims inside will have his signature embossed. So if you are one of Usain Bolt's fans and loves Nissan GT-R at the same time, please keep checking eBay for the latest car auctions or keep hitting autochunk.com as we will keep you posted on the same.
Source: Nissan