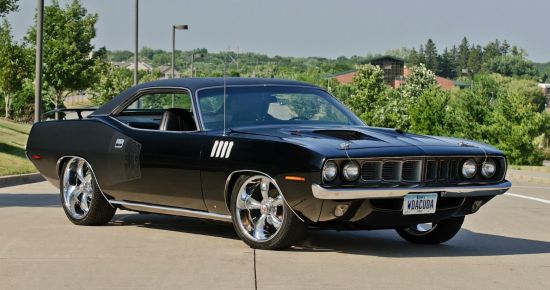 Plymouth Barracuda built for one decade (1964-74) was notoriously cool muscle car created to give the likes of Mustang, Chevy Camaro and the Pontiac Firebird of its times a run for their money. However, it silently slid into the history until most recently we head of speculations about 2015 Barracuda. However, it surely hasn't lost its ardent fans who are ever ready to restore any of the old Barracuda models.
The third generation Plymouth Cuda from the model year 1971 has been restored with a couple of changes here and some there. The restoration gets Mopar inspiration as the inspection as well as decoration of Cuda 383 coupe is done by Mopar expert Galen Govier. Some of the peculiar features of the restored model include vinyl bucket seat interior, air conditioning which wasn't available during the time car was built, new sporty hood with hold down pins, 383 billboards and rear spoiler.
Powering the beast is a Super Commando 383 6.3 liter V8 CI engine which is connected with three-speed Torqueflite automatic transmission for the smooth transfer of power. The restored beauty from the bygone era has 18" wheels upfront and 20" wheels at the rear with large diameter and chromed with low profile rubber. During the restoration process, the car is lowered by 2.25 inches, perhaps for better grip on the road.
Unfortunately, we don't have any info as to who restored it, how much time did the restoration process took and what was the inspiration behind pursuing the revamp. All we can guess is the restorer might surely be a diehard Cuda fan.
Via:Gtspirit