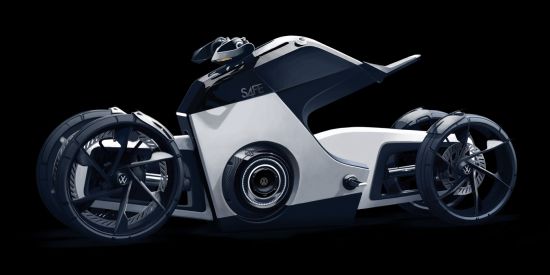 Bike riding is a sheer fun, a style and what many deem as a passion. However, bike riding involves risks at the high speeds or on the congested roads that may at times turn into a nightmare. Due to the security issues involved, many bike lovers just avoid biking. However, there are avid bikers who could not eschew bike riding due to this reason alone. In order to help those souls out of the trouble, many designers across the world have come up with concepts time and again and here is one such concept that can rid bikes of the safety issues.
The imagination of French designer, Gaëtan Francq, who presents a bike on four wheels, Volkswagen S4FE concept is exclusively designed for bikers with security concerns at heart. While delineating the Volkswagen S4FE concept bike, the designer has kept the safety concerns as the topmost priority while at the same time the concept retains the pleasure of riding a bike. On the other, the Volkswagen S4FE concept bike with four wheels has eco friendly credentials as it gets power from an electric motor which is juiced up by a 15KWh battery pack.
So, it's a concept that deals with three major problems at a time: safety concerns, environmental pollution while at the same time it takes the pleasure of riding a bike to next level.