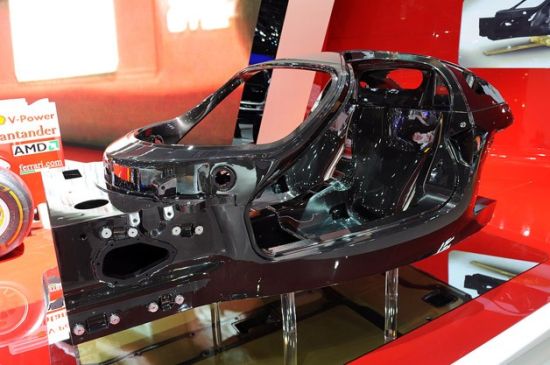 The fresh rumors about much talked about Ferrari Enzo successor and the most powerful Ferrari to date, the F70 has started originating yet again. As per the article published on the Insideline, Ferrari F70 is slated for the 2013 Detroit Auto Show in January. The limited edition Ferrari F70 supercar will get an updated mid mounted 6.3-liter V12 engine which will be mated to a HY-KERS electric boost that takes the combined output to a staggering 900hp.
The Formula 1 styled KERS hybrid system increased the weight of the car considerably but Ferrari exploited its F1 molding technique that help create a lighter body than what is offered in the road going cars to build a structure which is not only 20 percent lighter than Enzo's but also 27% more rigid and 22% stiffer. Apart from this, Ferrari claims that HY-KERS system will reduce 40 percent reduction in fuel consumption as well as CO2 emission but that surely isn't achieved by reducing the power but by increasing 120 ponies in V12.
The increased power is the courtesy of multi-spark mixture ignition and continuously variable-length inlet tracts. The successor of Ferrari Enzo is called F70 but the name isn't confirmed yet and it remains to be seen what Ferrari calls it. However, it will be the Fifth in the lineup of limited edition yet powerful models following the 1984 288 GTO, 1987 F40, the 1995 F50, and 2002 Enzo.
Note: the image is of Carbon fiber chassis revealed at 2012 Paris Motor Show.
Via: Carbuzz