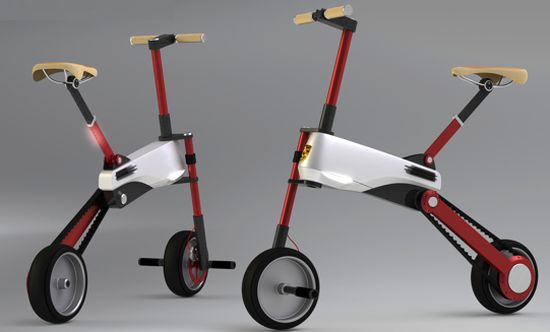 Foldable electric bikes and scooters are increasingly gaining ground on the roads. The reason being, the space on the city roads is cramping due to the rising number of vehicles, the environmental awareness is rising and fossil fuel sources are drying up fast. In such a scenario, emission free commute is all but need of the hour. As a result, US designer Federico Rios comes up with an electric folding scooter which is not only stylish but offers you easy and emission free commutes on the congested roads.
Taking inspiration from redesigned 2012 Porsche 911, the Porsche DOT Folding Electric Scooter comes out as a result of FastCO. Design plus Porsche's Nest design Challenge. The foldable electric scooter's journey starts where the use of your Porsche 911 is not possible or say impractical. Bearing an asymmetrical configuration which enables it to fold and fit well into 911's trunk, the folding scooter takes many design cues that includes air dams, side markers and horizontal tail lights from Porsche yet it has a presence of its own which is not only different but also stylish.
Porsche DOT Folding Electric Scooter is equipped with a 36 volt lithium-ion battery that provides vital juice to a 250 watt electric motor. Battery pack can be charged fully in two hours and provide enough power to touch a top speed of 22mph, with a range of 20 miles per charge. The total weight of the folding Porsche electric scooter is less than 15lbs which allows the user to port it easily wherever he/she likes.
Porsche [DOT] Folding Electric Scooter has its battery compartment and wheels made of aircraft grade aluminum and many other parts from carbon fiber and it uses flexible light brown leather for handle grips and saddle to make your commute ever more relaxed. On the other, greaseless elastomer belt drive, grip controlled acceleration and braking keeps your cloths clean on one hand and also gives you smooth ride on the other.