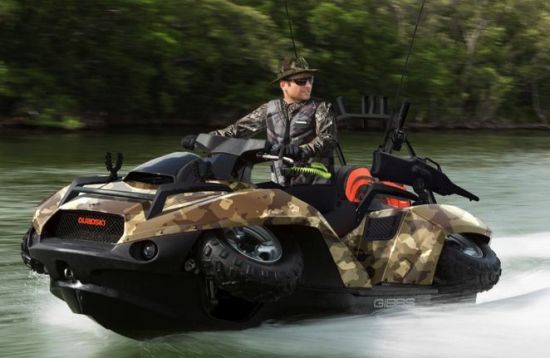 If you are looking for a vehicle that can give you extreme rides on land and water equally, GIBBS comes up with Quadski which the manufacture claims to be the world's first high-speed sports amphibian. What's more entertaining is the fact that it's just switching over from prototype to become a commercially available product soon. The Quadski amphibious vehicle can be driven like an all wheel drive quad while on the ground and like a jet ski when it enters the water.
The vehicle draws its wheels to become a jet ski like contraption and transition from land to water vehicle and vice versa is done by pressing a button and takes merely five seconds. The Quadski amphibious vehicle offers you fun on ground and waters with a speed up to 45mph. Powering the 1,300 pounds amphibian contraption is a BMW Motorrad four-cylinder water-cooled engine which is capable of producing 175hp and has a 15-gallon fuel tank.
To be made available in five colors that includes black, silver, blue, yellow and red in selected US markets from next month, the Quadski amphibian vehicle will be offered in a single person mode only and will be manufactured at Auburn Hills, Michigan, facility with an estimated price tag of $40,000.
Source: GIBBS