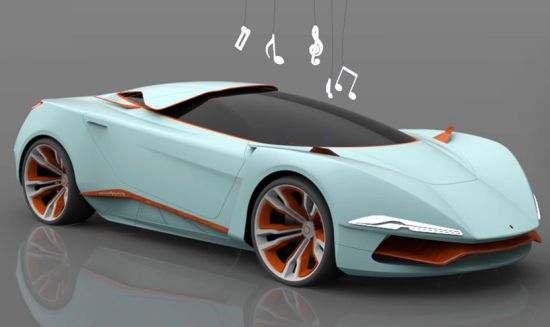 After so many elegant concept cars that we introduced you with on autochunk, here is another concept that is not only eye catching. The brainchild of Giampiero Sbrizzi who is a transportation design graduate from Istituto Europeo di Design (IED), the Pininfarina Chords is a futuristic, compact sports car concept inspired from music, particularly from the double bass instrument.
The concept measures 3850mm in length, 1650 mm in width and 1300 mm in height. The Pininfarina Chords concept is imagined with vibrating strings and a device capable of converting low frequency vibrations into energy. It may sound impractical or fictional to many sane ears but the technology is actually under construction in MIT and is called Mini Energy Harvester.
The strings have been connected with the exterior elements and are produced from mahogany. The body panels of the car are made of carbon fiber and composite plastics which give the concept car not only eye catching looks but also make it aggressively cool as a whole.