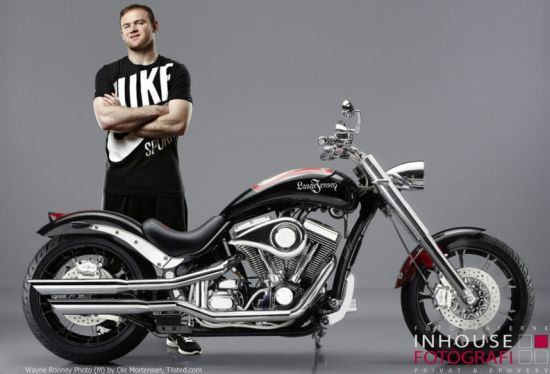 Wayne Rooney is a force to be reckoned with in the football world. The Manchester United and England strikes has a massive fan following. However, there is another side of his personality that many of his fans might not be knowing, philanthropy. Yes, this man has a kind heart and he shows this by putting his custom designed motorbike for auction wherein all the money from the bike sale will go to the KidsAid, a Danish charity that helps children who've been through traumatic events in their lives.
The bike that has been described as Lauge Jensen motorcycle on eBay is up for the garbs and has already got more than 54 bids so far. Rooney's fans go nuts for the bike and it is expected to fetch a massive amount from auction as the bid is already at £60,000 and is still has one day and 11 hours of time left.
Talking about the Wayne Rooney's bike that has broken the bidding war among his fans is diamond encrusted with a top speed of 155mph and achieves 0-60mph sprint in less than four seconds. The chopper has been designed by Rooney and has been custom made by the Danish manufacturer Lauge Jensen. The one-of-a-kind bike with raw and clean design features a specially designed shift rod with 21 black diamonds, a white diamond together with Rooney donated player jersey with his signature has been mounted on the petrol tank and lacquer seal has been applied to preserve the jersey.
Additionally, the rear fender of the bike has Wayne Rooney's picture of his victory goal against Manchester City in 2011 paint brushed. So, if you love the famous footballer and would love to own anything related to Wayne, you still have more than a day to bid for it on eBay.