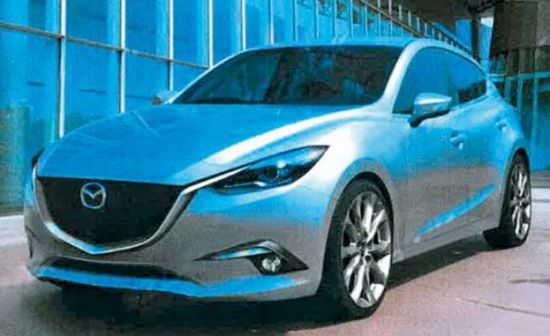 We already have had news about the 2014 Mazda3 in the recent past wherein it was reported that the all new version is to shed hundreds of pounds. The car was reported to be debut by next summer but that doesn't make a big difference as of now as the first images of the car have already surfaced on the web. There remains no ambiguity for the time being as Mazda has affirmed that these are merely the digital renderings of the 2014 model, showing how it will look like in Kodo design language.
Well, whatever is the case but the images somehow show what to expect from the newest Mazda3 when it is revealed. The concepts shown here in five-door hatch and sedan versions will have controversial smile grille, that was fitted 2012 Mazda 3, gone altogether, one can see the fast rising belt line in the images and there are sharp lights at the either end. Mazda is working hard to curb its weight to a scant 2650lbs which will help get fuel economy of 40mph on highway driving.
While borrowing many design cues from new Mazda 6 and the CX-5, you can expect a 2.0-liter, four-cylinder engine placed under the hood, which is capable of producing 155hp and 148 lb-ft of torque. Even, there is possibility of a SkyActiv 2.5-liter engine with 189hp and a 148bhp 2.2-liter SkyActiv diesel engine that will hit the US market in the new Mazda6.
However, these remain speculations for the time being and real performance numbers and powertrain details won't be confirmed untill there is an official word on the same from Mazda but that doesn't seem to be affirmed anytime soon.
Via: Autoexpress