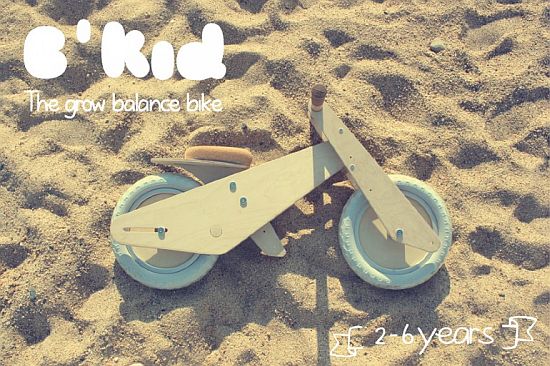 If you are feeling immense pressure on your monthly budget due to the rising needs of your toddler, Barcelona based designer, Noelia Vallano Alvaro, comes up to help you out of the difficult situation. The designer really understands how to put checks on the rising expenses of your offspring that increase with each passing day owing to the fact that focus on the kid's things shift instantly from diapers to toys and bikes asking parents to buy new things every time to meet the ever increasing needs.
The designer comes up with a concept bike, christened as B'kid that grows with your child and is apt for use from the age of two to six years, thus nullifying the need to buy different models during these years. The B'kid is three bikes in one as it exists as a trike initially, then a balancing bike and finally a pedal bike. At the earlier stage, B'kid can be used as a trike to let your child know how to pedal without caring a wee bit about balancing. Once he learns how to pedal efficiently and hold the handle bar, the third or balancing wheel of the B'kid can be removed easily and its handle bar can be adjusted to suit the purpose. Finally, pedals can be added to convert the bike into a conventional two wheeler.
Well, that's not all and the B'kid concept's saddle, handlebar and the rear wheel can be fixed with the increasing age of your child. On the top of this, the concept B'kid bike has eco friendly credentials as it is made of natural materials consisting of frame and wheels made from birch wood while the seat and handlebars are made of cork. Well, the only thing that you might wry is the fact that it's in the concept form as of now but the designer is looking for a manufacturer who can make it see the light of the day soon.
Via: Treehugger / Cargocollective