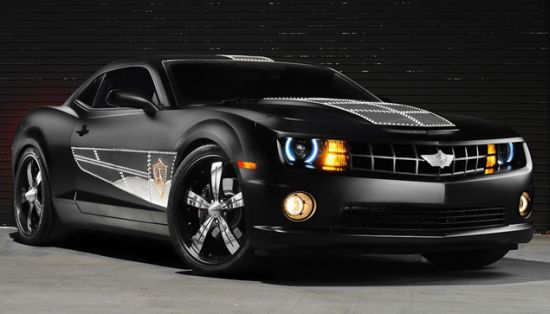 Formally associated with Orange County Choppers and after ruling the roost of custom motorbike building, Paul Teutal Junior is taking a step ahead from what he used to do at the custom chop shop and has taken a challenge to customize a Chevrolet Camaro. For that purpose, he teams up with automotive design company Trans American Muscle (TAM).
Together with TAM, Paul Jr. Designs (a company that Paul established after leaving Orange County Chopper) has created a special program for 2012 Chevrolet Camaro to add his touch inside, on the exterior and everything in between. The Chevrolet Camaro  comes with WWII fighter plane inspired custom sheet metal, a custom hot rod matte black paint finish and copper while one can also see matching Paul Jr. Designs (PJD) emblems on it. Apart from this, custom door sills, copper numbering badges, aircraft rivets and Forgiato 22 wheels complete the exterior package.
While inside, the factory gear shifter has been replaced with something that resembles the joystick having red buttons on the top. Even there are considerable changes under the hood too as PJD has added a 2.9-liter Whipple supercharger to LS3 V8 engine, SLP sub-frame connectors and exhaust together with an X-Pipe. There is no word on how much of additional power has been added but keeping in mind Paul Jr. background we could expect a huge number of ponies to make Chevrolet Camaro a real bad toy.
The car was showcased at the 2012 Daytona Bike Week that took place from October 9th – October 18th is a limited run of 77 units which will come with aircraft-style and aerospace theme. The custom Camaro is now up for the grabs through Trans American Muscle with an expected price tag of $84,000.
Via: Carbuzz