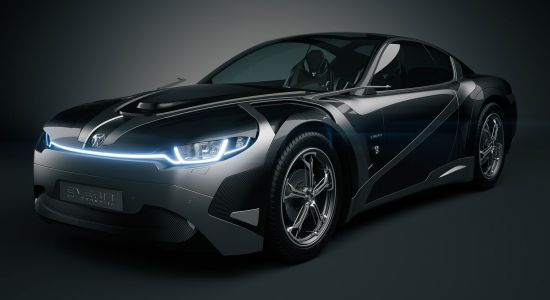 While France produces some of the most menacing supercars, we don't often hear about muscle cars from the European country. However, the Tronatic Production, a French design studio that specializes in 2D and 3D visualization, presents a modern interpretation of a French muscle car.
The concept is called French electric muscle car which is a further development of an earlier project from Tronatic Production, the Atmos of which a full scale prototype was build. The French electric muscle car, however, is a great refinement of Atmos and features muscular and aggressive aesthetics while sticking to true to the philosophy of Atmos at the same time.
The exterior of French muscle car is defined by distinctive combination of materials and graphic elements. Design wise, the Tronatic Everia Concept suggests the classic lines of a coupe with a more aggressive front and tail which is blended with the lines of rood in a similar way as in the iconic American fastback of 60s. Whereas some of the lines will remind you modern cars, the French designers have done a great job to make it look not only different but attractive.
With technical and stylistic solutions that are not commonly available, the Tronatic Everia Concept has steering wheel that splits, there is a carrier around the driver's seat which is based on geometric shapes. There is no world from the design studio if a prototype version of the concept will be ever built or about the powertrain and performance figures as the project, in true sense, is primarily aimed at showcasing design studio's digital imaging as well as design capabilities.
Via:CBD / Tronatic-production