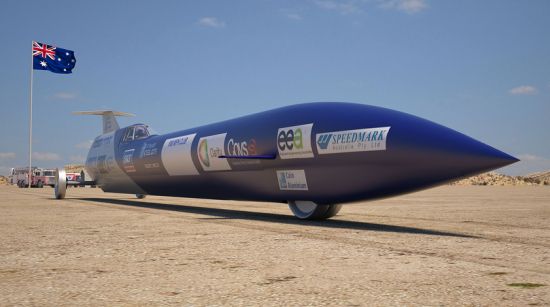 We all know that Bloodhound team from Britain is in a pursuit to touch a speed of 1000 mph. However, a few might know that there is another contender in the race to get it before Bloodhound actually set that mark for others to supersede. Well, yes an Australian team, Aussie Invader, has already launched its campaign to break the world land speed record.
The team will be led by Rosco McGlashan, an Australian drag racer who holds the Australian Land Speed record at 802km/h set back in 1994. Rosco McGlashan not only aims to break the World Land Speed record set by British fighter pilot, Andy Green, at 1185km/h in 1997, but also hopes to beat British Bloodhound team's quest to reach at 1000mph mark.
The Aussie Invader 5R, a vehicle that will be used to get over the World Land Speed record, will be powered by oxygen and bio-kerosene rocket engine based on the one used in the Altas V spacecraft. The unit is capable of producing 62,000lbs of thrust which equals to 200,000 horsepower to enable Aussie Invader 5R to get the 1000mph in 20 seconds.
Aussie Invader 5R doesn't use tires but solid aluminum wheels run naked. Each wheel weighs 100kg and can turn at up to 10,000rpm. The vehicle measures 18 meters long, three meters tall at the tailfin and weigh around nine tons when fully fuelled. Aussie Invader 5R is under construction for the time being and Aussie Invader is looking for sponsorship to get the car built and requires approximately $3 million for the purpose. Let's wait and watch which of the two solid contenders gets the World Land Speed record first.