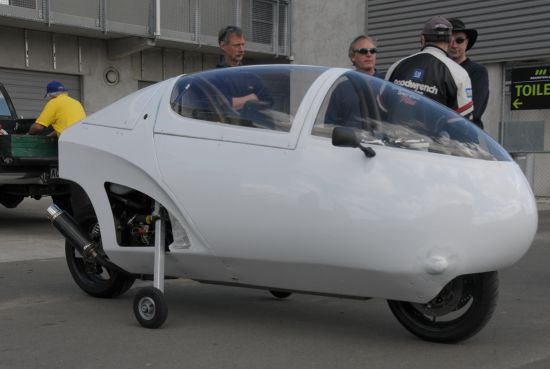 For those of you who just avoid biking on many occasions for the simple reasons like it's not safe, bike is open and makes you face any unpleased weather condition; they are uncomfortable for long journeys and you can carry little baggage while riding should meet Roger Dunkley. This man from New Zealand has tried to solve all these things by presenting AeroBike. Similarly, some students are hesitating whether to get homework help, while most of their friends just google "do my homework now".
While such a bike might be little too expensive for many including Roger, he decides to figure out a DIY version at his home. He comes up with a creation that offers solutions to all the above problems. It protects you from the bad weather conditions with a sheet metal tub that cocoon the entire bike. Two conventional seats of the bike are replaced with two chairs placed in a tandem order that not only makes the rider more comfortable but allows you to use it for long journeys and carry a bit more luggage.
The bike used for the purpose is Suzuki RF900 inline four that works well and is added with two stabilizer wheels designed to retract telescopically instead of swinging up to solve the balance issues since the biker remains cocooned in the shell. Roger Dunkley designed and built the fiberglass body for the AeroBike that resembles in its all proportions to Peraves Ecomobile cabin motorcycle.
The AeroBike which is now an enclosed two wheeler with aerodynamic package makes you sit comfortably in the cabin. What's even more impressive in this DIY project is the clear canopy that Roger made with his hands. Hit past the jump to check out the videos of Aerobike in testing phase with no canopy, then of finished bike and the last one chasing a car during a slow lap of the Manfield race track. The bike offers all what a car does and that too with fuel efficiency.
Via: Thekneeslider