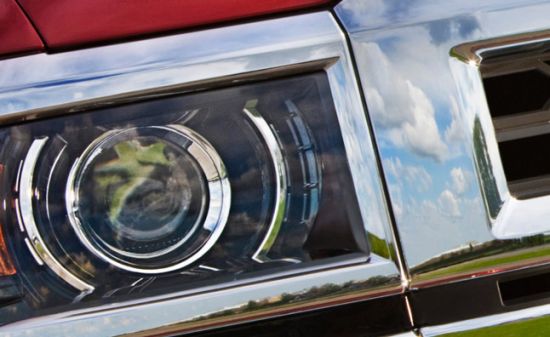 We all know that General Motors was to showcase new Silverado and GMC Sierra pickups at the 2013 Detroit Motor Show. However, there are some updates with the teaser image of the next generation Chevrolet Silverado. Yes, Chevrolet has just released the first teaser image of the 2014 Chevrolet Silverado. The teaser image shows the projector beam headlamp of the next generation pickup surrounded by chrome trim. With the teaser image, a statement comes from the General Motors that both the truck will be introduced to the world on 13 January at Detroit.
While the information on the 2014 Chevrolet Silverado is scant at this moment of time, all we know is next generation truck will be powered by GM's new small block direct injected V8 engine that will be coming in next a few days. We also believe that 2014 Silverado will have bold exterior design and enhanced capabilities than the current model. It is also believed that a six speed transmission will be offered initially but rumors have it that an eight speed transmission is under development and is expected to be completed by the time next generation Silverado is released.
Inside, Chevrolet Silverado is expected to come with new center stack design, chunky controls, Chevrolet's Mylink infotainment system and scores of fat toggle switches. Apart from this, the buttons for high tech options for various features like power adjustable pedals lane-keep assist and parking sensors will also be placed. With these details, it is also believed that Chevrolet can built 2014 Silverado in an upmarket, high country luxury trim level.
The new, 2014 Chevrolet Silverado will go on sale next year after its public appearance at 2013 Detroit Motor Show. The details will be confirmed only when it debuts at the show. Buy that time keep reading autochunk and we will keep you updated on the same.
Via: Autoguide