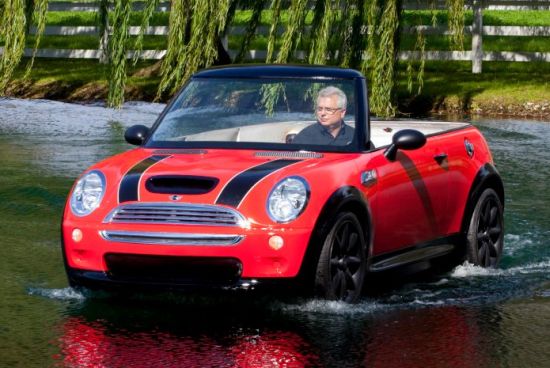 Mini has already got lots of love and attention from the car lovers with its various models – be it hatchbacks, convertibles or compact SUVs. Mini has tried almost everything on the little car to make it a success story like no other, if we talk about its sales. However, if all of you Mini lovers are wondering what's Mini gonna do next to attract its ever increasing fans, you will be glad to read the following lines.
Well yes, Mini USA has pulled the covers off not to a new Mini Cooper but their Mini Cooper Convertible boat which is the part of Mini USA's annual Motor-Tober activities wherein the brand devotes the month of October to celebrate all that is fun about its brand. The boat was revealed in Cambridge, Massachusetts, over the weekend when Mini tested its special edition convertible boat on Charles River.
Powering the convertible boat or floating car is a 6hp outboard motor. The convertible boat which is the fiberglass version of 2004 Mini hard-top has been created from mold and then placed on a boat. To make it look more a car on waters; Mini Convertible boat comes complete with wheels, tires, headlights, badge, steering wheel and grille.
This year Mini named its program as Not Normal Sales Event and the Mini Cooper boat is Mini USA Eastern Region's answer to identify 'not normal' ways to celebrate the Motor-Tober – a challenge given by Mini USA's marketing manager. It's a nice boat for sure but all of you Mini fans might surely be disappointed to know that this one-off concept boat won't be made for common masses.