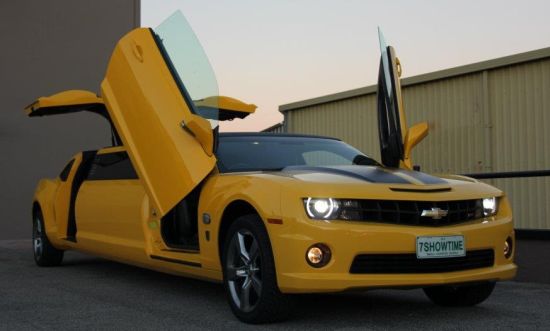 We have had already introduced you people with scores of eye catching conversions in the past that entertained every gear head. Here is just another case. The conversions or playing with Chevrolet Camaro isn't anything new to any one of us but this one is different, entirely different to those, if any, you might have ever seen.
The Chevrolet Camaro in question here is a fifth generation car and it's the perfect embodiment of one of the extreme conversions ever done on a Camaro. The model is Camaro Transformers Special Edition SS built for a company with the name of ShowTime limos, located in the city of Perth in Western Australia.
Transformers special edition Chevrolet Camaro SS gets power from GM's 6.2-liter V8 engine that develops a healthy 426 hp which, in this case, is enough to propel what can really be called a party house on wheels. While the exterior goes under considerable changes, the Transformers themes continues inside and can be seen as soon as one enters Chevrolet Camaro Limousine through scissor styled front or gull wing rear doors. Hit past the jump to check out the video showing the car in detail.
Via: Carscoop