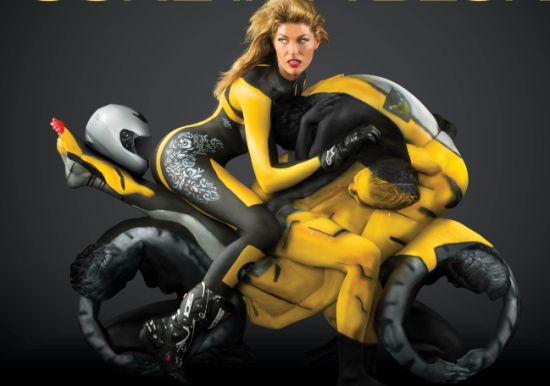 Body art isn't new to anyone of us and we have seen its various forms over the years. However, the one we are talking about this time is entirely different for reasons being many. It is as impressive as it gets, it makes you think where creativity can really take you up to and last but not the least is the fact that it comes out after experts from various fields play pivotal role in forming what can really be deemed as impressive piece of art.
Well, yes we are talking about Human Motorcycles that combine the contorted bodies of yoga experts, some performance from circus pros, flexible dancers and some incredible body painting from Trina Merry to create something that's nothing short of spectacular. The human motorcycle is the part of an advertisement campaign created by i.d.e.a team to promote the forthcoming Progressive International Motorcycle Show.
The advertisement campaign consists of a sports bike, a cruiser and a dirt bike and some spectacular art work that really brings the pieces to life. The motorcycles are ridden by the Progressive International Motorcycle Show host and sports reporter Erin Bates who is also an avid biker and played a considerable role by suggesting apt backgrounds for the purpose as well as good insight.
It took the whole team 18, 15 and 13.5 hours to give form to speed bike, cruiser and dirt bike respectively, which is the clear indication how much work has actually been done to get the motorcycle components in the right position. However, the feat wouldn't have been achieved without the help of two massage therapists who were on the set all the times to assist the team.