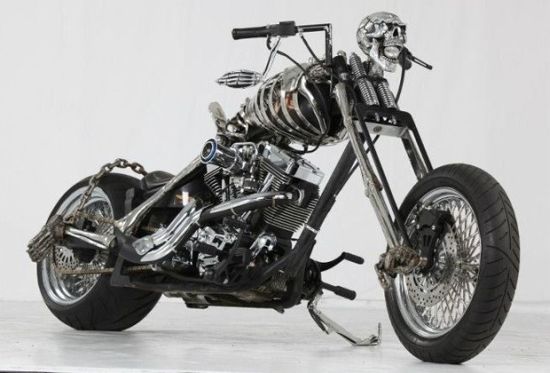 Chinese are often accused for duplicating everything gorgeous from west – be it cars, phones or any other product. However, the things are changing really fast and we have seen scores of creations from the Asian giant in the recent past that surely redeem the country off the duplicity allegations. The things become even more laudable when we know that the car culture hasn't made to the country fully as yet. Similar is the case with the choppers.
However, the love for autos is making into the Chinese hearts and minds gradually and the Skull Rider bike is the most recent embodiment of it. The bike was built by Chinese custom chop shop Songsan MC and competed in the AMD Championships. The bike is not only genuine creation from China but as frightening as its name suggests. Flaunting menacing looks supported by skull headlight and the metal rib cage structure covering the entire fuel tank, the custom bike seems fit for Lucifer to ride on.
The custom creation of Chinese customizer Xiao Lei, the Skull Rider, though didn't win the 2012 AMD Championships but it surely won the hearts and minds of Americans who have all praise for the custom bike. The Skull Rider was conceived by Xiao Lei after a dream wherein he had an evil skull rider from the hell. As a result, Xiao Lei's Skull Rider looks intimidating and reminds one of the Cage's ride in the Ghost Rider.
The bike gets power from a huge 2,294cc V shaped Ultima engine which is aligned with 6-speed open belt drive to make it sound like a real beast and offer unlimited fun on the go. On the other hand, the Skull rider uses skeleton man as the basis for the custom motorbike that extends from back to the front axle. Other details of the bike include custom chrome 18 x 3.5 wheel upfront and 18 x 10.5 at the rear that are wrapped in Avon 130/70-18 tire at front and Avon 300/45-18 at reat. To bring this threatening beast to a halt; there are Custom Chrome 4 piston brakes on both ends.
Via: Motozania