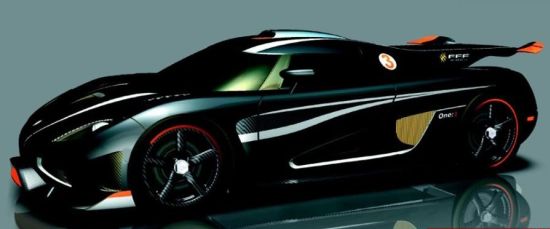 It seems Chinese are increasingly falling in love with foreign iron beauties. It was just a month ago we introduced you to a special edition Koenigsegg Agera R BLT built on the orders of a Chinese customer. Here is another Koenigsegg Agera under development which is, again, ordered by a Chinese customer via Shanghai dealer FFF.
The mysterious model you see in the picture above is a new member of Agera lineup. This new, one-off bespoke model's image is released through an Apple iPhone screenshot clearly showing the rendering of the black hypercar. The image shows the carbon fiber wheels, a redesigned front, more aggressive front lower splitter and a fixed roof with an air scoop made, again, of carbon fiber.
One can also see redesigned huge rear wing which is connected with roof with a horizontal surface similar to Pagani Zonda 760 RS. There are no official details available about the powertrain but the earlier reports suggest that the special edition Koenigsegg Agera will be equipped with an enhanced twin turbocharged 5.0 liter V8 powerplant, churning out a staggering 1400hp.
The Koenigsegg Agera R BLT ordered by a Chinese was impounded by the Chinese authorities. We wish this special edition Koenigsegg Agera doesn't meet the same fate.
Via: Gtspirit